1986 – The founding of the Toronto studio
The Toronto studio was founded in 1986 as Quadrangle, with the merger of two Toronto firms, Curtner Brown and Klein Taylor Goldsmith.
Instead of forming to focus on one particular sector, the firm sought out a particular kind of client, visionary and ideas-driven yet anchored by pragmatism.
The Toronto studio was built on the foundation of promoting design thinking by creating a collaborative environment for the free-flowing exchange of ideas. In studio culture and business practice, this exchange has always been encouraged and supported, and adds to the unique way in which it operates.
In the early 1990s, the  studio developed an expertise in non-profit housing, with projects such as the Tatry and Pathways Non-Profit Housing complex, the first Canadian project to win a World Habitat Award from the United Nations.
For Toronto's condominium housing market, the firm created landmark buildings including The Morgan and the St James Condominiums in 1998, which were designed as homages to their historic urban contexts.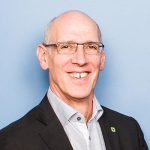 Story by Les Klein