1986 – Janet Jack becomes first female partner
In 1986, Janet Jack became our first female partner and chaired the landscape architecture profession across the whole practice, as well as running a large team in the London studio.
Janet was the landscape architect behind the hidden park at Neave Brown's 520 home Alexandra Road and was responsible for the Clore Gallery Extension at Tate Britain. One of her many notable achievements was successfully bringing forward the Parliamentary Bill that enabled the Channel Tunnel to come to fruition.
Today, female leadership continues to shape and grow the practice. Principal Michelle McDowell, Chair of Civil and Structural Engineering, is the Contract Lead on the Palace of Westminster Restoration and Renewal Programme. Our Finance Director is Heather Wells and she is responsible for advising on the financial and administrative aspects of BDP's global strategy and operations.
As UK North Chair I have responsibility for guiding our strategy for this region and Principal Anna Madeira based in our Toronto studio is responsible for our strategic growth across North America. We also have a variety of talented women leading different professions and sectors across our studios, who are all inspiring role models for the next generation.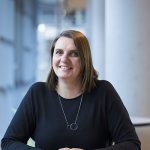 Story by Sue Emms