1994 – The Queen opens The Atrium at Sheffield Hallam University
The atrium at Sheffield Hallam University's City Campus was officially opened by Her Majesty The Queen in February 1994. At the time it was the largest ever construction project in higher education, costing £27m, and it went on to win a prestigious RIBA Award.
Our team led by Sue Emms, UK North Region Chair, is now working with Sheffield Hallam University to deliver a campus masterplan which will provide exceptional facilities and an estate that enables and encourages a new way of learning, researching and working.
To create greater flexibility and variety to accommodate different student needs, the campus will be consolidated through a mixture of new builds and the refurbishment and redevelopment of existing buildings.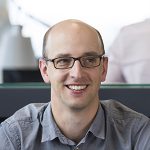 Story by Alistair Hammond