1991 – BDP opens studio in Dublin, Ireland
In 1991, we opened our first studio in Dublin, bringing more design aspiration to the Emerald Isle.
Since its formation, our Dublin studio has become recognised as a leader in sustainable design, having delivered many of Ireland's exemplary lowest energy buildings and winning more than 40 awards.
The year 2021 marks the studio's 30th birthday and we are celebrating its projects and the value it has contributed to its much-loved communities over three decades of design.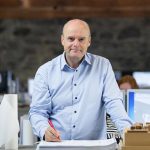 Story by David Brennan