1994 – Channel Tunnel opens to passengers
The opening of the Channel Tunnel is a moment of great historical and cultural significance.
The practice has been involved with the project for more than 20 years as the UK terminal's designer, with a wide-ranging brief including designing the amenities building which provides accommodation on three floors for public amenities, site administration by Eurotunnel and for frontier and security staff.
In the future, transport hubs like the Channel Tunnel should continue to be catalysts for transit oriented economic growth and uniting global and local communities.
The architectural and spatial experience of a transport hub provides passengers with a warm welcome to their destination and an iconic physical gateway for their departure.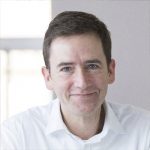 Story by Ed Dymock