1983 – Sheffield studio wins Office of the Year Award
Our Sheffield studio was awarded Office of the Year in 1983 by the Institute of Administrative Management. Judges said "BDP made a bold decision in taking an existing double height showroom space in a city centre location. The overall quality of space is remarkable and the assessors were able to find few faults – an effective advertisement for BDP and the architectural profession."
Though our team no longer resides at this studio location, the importance of high quality beautifully designed spaces that create a sense of belonging remains. The studio is led by Principal Andrew Smith, Head of Healthcare, who has built a talented team of healthcare designers who have delivered numerous hospital projects over the years.
Alongside many awards achieved for Southmead it took a BREEAM Excellent certification for sustainability on its completion.
White Rose Shopping Centre in Sheffield and Heslington East campus, University of York are also key highlights in our history demonstrating the team's ability to deliver high quality design for a broad range of clients.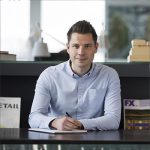 Story by Sam Johnson