2011 – Qatar National Convention Centre is an acoustic success
In 2011, after four years acoustic consultancy input, the $1.1Bn Qatar National Convention Centre opened, the largest of its kind in the Middle East and first to achieve LEED gold certification. The project was the acoustic group's largest commission to that point and featured a 4,000-seat conference hall, a 2,300-seat theatre, three auditoria and a total of 52 flexible meetings rooms to accommodate a wide range of events.
Whilst performance space design goes back to our roots, with the group founded in response to the renovation of the fire damaged Albert Hall at Bolton Town Hall in 1981, the group now delivers acoustic design to all projects and all sectors, enhancing occupants' wellbeing and experience in homes, schools, offices, hospitals and everywhere else.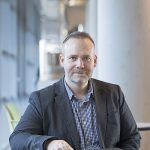 Story by Gavin Stevenson