2010 – Queen Elizabeth Hospital opens to patients
The first patients were admitted to Birmingham's super hospital, Queen Elizabeth Hospital in 2010. Conceived as three elliptical bedroom towers sitting over a high tech medical podium, it provides fabulous views over Birmingham.
This award-winning 1,231 acute-bed hospital was won and designed by our Sheffield studio with the vision of creating a regional centre of clinical excellence. In 2004, they set up an onsite team to support the delivery of the project which led to the opening of our Birmingham studio in 2006.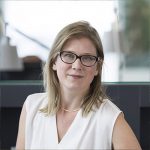 Story by Vicky Casey