1988 – Paddington Basin masterplan won
The masterplan for the £200m landmark mixed use regeneration development for Paddington Basin in London, comprising offices, housing, retail and leisure, presented an urban design challenge, integrating forgotten acres of land and water into Paddington and creating a business district based on its rising accessibility.  We went on to design the public realm that would complement the design of the Paddington Cube building, created by Renzo Piano, and Paddington Lawn – a retail and catering destination within Paddington station.
We have also designed a number of award-winning public spaces across London including creating the publicly accessible gardens over the 1905 Grade II Listed Brown Hart Gardens substation in North Mayfair and the transformation of Margaret McMillan Park in Lewisham.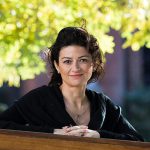 Story by Gergana Draganova