1977 – First computer installed within BDP studio
An HP3000 series II computer was installed, at a cost of £120,000, to provide a springboard for computer advancement across the whole practice. A computer services manager was appointed with the brief to convert the systems from the PDP8s and promote the use of computers across all professions in all studios. The HP3000 was capable of handling 16 simultaneous users with terminals in Manchester, London and Guildford connected by normal Post Office telephone lines.
In the 1970s, our Job Costing Application servers started as  room sized grey monoliths, and progressed to become a series of independent Microsoft Windows servers in the early 2000s. Server virtualisation  has also allowed us to shrink our hardware requirements making huge environmental savings.  Other technical evolutions include connecting our UK studios in the past via 64kbp/s Serial BT Kilostream links to Gigabit internet access and the ability for multiple users through shared office storage to access and work on the same files simultaneously from different studios across the world.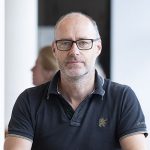 Story by Andrew Clague