1977 – Northern Bank HQ wins RIBA Award
Standing on the southwest corner of Donegall Square in West Belfast, the Northern Bank HQ building was designed and engineered by BDP in 1976. The seven storey headquarters provided office accommodation for the bank's major departments and its main city branch. The building was hailed as a good example of engineering design, with sustainable energy practices reducing solar gains and heat loss throughout the Brutalist building.
In 1977, the building won a RIBA Award with the judges noting that: "The design successfully achieves the difficult task of providing a building which, while emphatically stating its importance as housing a major financial and commercial headquarters, does not challenge the dominance of the City Hall, nor add another strident note to an already cacophonous chorus from the hotchpotch of styles and periods elsewhere in the square."
Recognising its importance as a strong example of mid 20th-century modernism architecture, the Northern Ireland Environment Agency granted the building listed status in 2015. The B listing secures the building's future as an architectural gem on the city's skyline.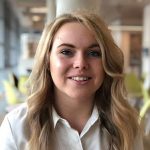 Story by Rachael Gilbert