1982 – From BDP's own CAD system to BIM
In 1982 the Computer Aided Design (CAD) system developed by BDP Computing Services Ltd was implemented in the Manchester and Guildford offices, closely followed by London and Preston. It developed rapidly and an exhibition of Acropolis was held at the 1983 RIBA conference, resulting in worldwide interest from government organisations as well as private practices. The system was marketed to clients outside the practice until 1989, and sold to many public authorities and private firms.
The system stayed in place for 11 years before finally being phased out due the introduction of PC-based applications such as Microstation and AutoCAD in 1993.   This created a shift from small teams of CAD specialists using Acropolis on expensive Unix workstations, to all technical staff as the drawing board was replaced by a PC on every desk.
Years before the term officially began to be used in 2002, we were already familiar with many of the processes and technologies that constitute BIM. The Glasgow Science Centre, for instance, used the advanced 3D modelling capabilities of Bentley Triforma to develop the complex geometry, to resolve spatial coordination issues, and to feed directly into the DfMA process used in the production of the iMax space frame.  Bridge Academy, which opened in 2008, is another early example of the successful application of BIM on a multi-professional project.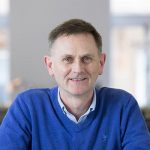 Story by Don Kelman