1981 – First prototype low energy hospital
The commission for a Low Energy Hospital study in 1981 put us at the forefront of a fast developing energy specialisation. Following the study, the practice was commissioned for the building services engineering design of St Mary's Hospital on the Isle of Wight making it the first prototype low energy hospital.
Major savings were found by improving daylighting and by using more efficient electric lighting. Savings were also achieved by modifying the standard Nucleus ventilation and air conditioning systems and the elimination of steam heated appliances in favour of gas heated units in the kitchen. It was calculated that a reduction of energy demand to 70% of the datum was achieved, a saving of 30%.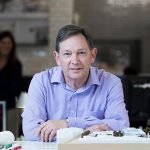 Story by Steve Pardy