1999 – Y2-Yay
In late December back in 1999, we all caught wind of the impending 'millennium bug', rumoured to have the potential to take down all computing systems across the globe. Programmers and computer users all across the world were working overtime to pre-empt system failures as a result of 'Y2K'. The New York stock exchange had invested millions to correct all its systems, while the G8 summit and the UN were busy coordinating international action.
Amidst all of this, the Dublin team moved from Baggot Street to greener pastures, taking foothold of a three-storey stone building in Blackhall Place – a former hosiery factory in the heart of Dublin. The office migration went off without a hitch, even after the clock struck midnight and 1st January 2000 came around.
Ahead of the move, we participated in the design and refurbishment of the old factory, taking full advantage of the building's unique features. With its external and internal stone walls and exposed trusses the studio, to this day, makes for a stunning work environment.
The office is well positioned in Dublin's Stoneybatter District which in 2019 was given the title of Ireland's coolest neighbourhood and ranked in the top 50 in the world, according to Time Out magazine. The nearby Smithfield Square offers a fine selection of organic food shops, alfresco dining and a buzzy atmosphere.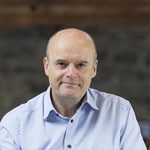 Story by David Brennan