1999 – Royal Opera House opens
The competition to design the Royal Opera House was won in 1983 and undertaken as a joint project with Dixon Jones. The project succeeds in preserving the 140 year old theatre whilst redeveloping its backstage facilities, enabling it to continue as the home of the nation's premier opera and ballet companies.
The acclaimed project wins many awards including a RIBA Award, a Civic Trust Award and a Europa Nostra Diploma of Merit, and was described in the Daily Telegraph as "…an architectural scheme of rare flexibility and glamour."
It is one of a range of projects over the last 60 years which have secured the future of high profile historic buildings by 'constructive conservation' – careful adaptation to address the challenges of the present and future.
These heritage buildings range from 400 year old houses to early industrial buildings to nationally and internationally significant museums, theatres and civic buildings; and now the Parliamentary Estate at Westminster.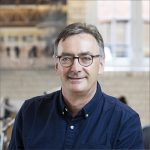 Story by Alan Davies