1961 – The Making of BDP
George (Grenfell Baines) and all his partners met at Bryn Mor, the practice's holiday home in Anglesey, in April of 1961, to discuss a new name for the practice. A decision was made to call the firm Design Partnership but it was discovered there was another company with that name so it became Building Design Partnership instead.
George knew there were many gifted people in the practice and didn't want to attribute the work to just one or two single names. Under socialist-led principles, everyone was to be recognised as an individual in an environment which brought everybody together.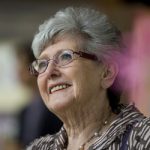 Story by Lady Grenfell Baines