2001 – Red Bull gives a new set of wings to catch the pigeon
In 2001 the Dublin studio team entered the Red Bull Flugtag event for the second time, building on previous experience, and our dramatic performance saw us take the prize for most entertaining flight and €3,000, which was donated to charity.
Previously, in 1999, the event came to Dublin and our studio team launched its very own human-powered flying machine off a pier in St George's Dock, to an audience of more than 20,000 supporters and roughly 100 local competitors.
Associate director and human-powered aircraft enthusiast, Chris Croly, had spent weeks leading up to this moment, running trial assemblies and testing aerodynamics from his back garden. The aptly named Frantic Flapper was assembled and ready to go. With Fiona Hodge sitting in the cockpit to navigate, and a team of our quickest staff ready to power the aircraft with only the speed of their legs, the Frantic Flapper set off in style over the edge of the 6m high pier. The ill-fated flight promptly flipped upside down and plunged to its death with only minor injuries to the pilot.
Lessons were learnt and our triumphant team of 2001 returned with an advanced contraption and new costumes. The updated model, Catch the Pigeon, flew a clean 6m with a slightly softer splashdown and the prize was ours.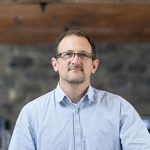 Story by Chris Croly