2001 – Glasgow Science Centre
We won the national architectural competition to design the Glasgow Science Centre on the south side of the River Clyde in 1995. Three distinctive buildings combine to make up the Science Centre: the Science Mall, the IMAX Theatre and the Glasgow Tower.
The three buildings are linked to create a single entity. A low teflon coated fabric roof and glass sided structure stretches wave-like between the Science Mall and the IMAX Theatre, creating an enclosed reception area, while a discovery tunnel connects the Science Mall with the Glasgow Tower.
It has become a major landmark on Glasgow's waterfront, and is used as a backdrop to many adverts. It has won many awards including a RIBA award and Scotland's best family attraction.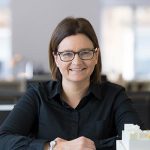 Story by Lindsey Mitchell