2019 – Quadrangle joins BDP Group
On 4 February 2019, the Canadian practice Quadrangle joined BDP and is now responsible for leading our expansion strategy across North America. The following year we rebranded to BDP Quadrangle reinforcing our position as a global practice with local expertise.
Our Toronto studio has an outstanding reputation in the region for innovative thinking and award winning projects. In 2016, 299 Queen Street West was awarded landmark designation by the Ontario Association of Architects (OAA) – a heritage building the team had transformed into the headquarters of the CHUM in 1987.
In 2019, Principal and Design Director Heather Rolleston joined Toronto's first all-female development team to develop Reina, a mid-rise residential building. We have also just completed the major multi-media facility in Quebec for Maison-Radio Canada.
The studio is also home to Human Space, our social impact brand, which offers consulting services to clients on inclusive design and aims to promote equity, wellbeing and social participation within the built environment.  The team was established in 2010 as part of a joint venture called AccessAbility, but launched its own independent brand in 2018.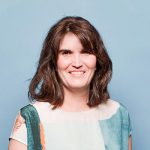 Story by Anna Madeira