1995 – BDP establishes dedicated lighting team
Our lighting team was formed under the leadership of Barry Wilde, a past president of Society of Light and Lighting, to give the specialism a stronger professional identity. The team quickly won a number of high profile projects, expanding its activities externally, but also collaborating with the architects and engineers within the practice to improve our interdisciplinary offering.
The team, now composed of artists, product designers, engineers, theatre designers and architects, has since become one of the foremost lighting design teams in the UK, responsible for innovative projects such as The Point for LCCC and Glasgow Queen Street Station.
They collaborate regularly with a community of artists, including Wolfgang Buttress on the UK Pavilion for Milan Expo and Corona at Biocity Nottingham. Current initiatives include smart technology and the internet of things and the Circular Economy.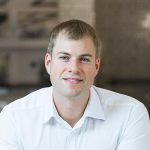 Story by Tom Niven