1974 – First structural engineering award
Our first structural engineering award was for the Grade II listed Halifax Building Society HQ designed in 1974. Since then our civil and structural engineering team has gone on to win many other awards including The Institute of Structural Engineering award for the Enterprise Centre at the University of East Anglia in 2017.
The judges said "The timber structure is a crucial part of a building that is super-sustainable. The commitment to the sourcing of local trade and low-carbon materials makes the Enterprise Centre an exemplar for specification, structural integration as well as energy performance.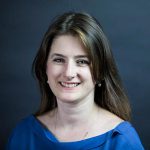 Story by Victoria Martin