2014 – A new hospital for the children of Ireland
In 2014, we were appointed to lead the design on Dublin's New Children's Hospital – the largest, most complex, government funded healthcare project undertaken in Ireland.
As lead consultants we have provided interdisciplinary services including architecture, landscape architecture, interior design, acoustics, graphic design, FF&E and BIM information management.
The original brief we were given, by the The National Paediatric Hospital Development Board, was to create one of the finest children's hospitals in the world. Once complete it will revolutionise care in Ireland with spaces for parents, electronic patient records and automatic guided vehicles.
The new 165,000m² children's hospital will be heralded as a world class facility for children and young people from all over Ireland, who have complicated and serious illnesses and are in need of specialist and complex care.
At the heart of our breathtaking design concept is an oval ward pavilion, set within one of Europe's largest roof gardens which opens towards the former Royal Hospital in Kilmainham/Irish Museum of Modern Art and Phoenix Park beyond, creating a strong landscape and architectural axis that will ground the new building in its context.
The introduction of the 'floating garden' halfway up the building literally elevates the importance of nature and the therapeutic environment, making it a central part of the architecture's character, quite unlike any other hospital of this size.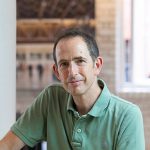 Story by Benedict Zucchi