1997 – BDP Advanced Technologies is set up
Following a series of significant project wins in the rapidly expanding micro-electronics sector, the practice established a new studio within the business – BDP Advanced Technologies (AT). With a dedicated focus on providing engineering-led interdisciplinary design and delivery services to this specialist market, it quickly developed a broad range of hi-tech, international clients such as Fujitsu, Hyundai, LG, Motorola, Seagate and Siemens. Just two years after its inception, and having recognised the migration of many semiconductor /micro-electronics clients to Asia, a Singapore studio was opened in 1999.
Fast forward to today and not only have we re-established our Singapore design studio presence serving multiple sectors across the South East Asia region, but we are once again seeing exponential growth in the development of high-tech and 'mission critical' buildings. The unprecedented global demand for digital platforms, cloud services and the general consumption of data, is fuelling a surge in the requirement for the construction of data centres and other high-tech mission critical facilities. We have completed many award winning projects within the science, research and technology sector which have required high performance and resilient data centres. Our aim is always to design sustainable, resilient, adaptable buildings that aesthetically suit the site, but understand the importance of security, safety and maintenance.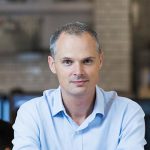 Story by Jeremy Farrington