2009 – Liverpool One shortlisted for Stirling Prize
Our masterplan for Liverpool ONE was nominated for the  Stirling Prize in 2009.
Previously  the shortlists for this prestigious award had only featured buildings and physical projects considered to be of great architectural significance. In nominating our masterplan they broke with tradition and put the Liverpool One scheme on a par with iconic structures for the first time in the award's 13 year history. Our scheme was also the first masterplan ever to  win a north west regional RIBA award (a prerequisite for consideration for the Stirling) earlier in the year.
The judges said the plan had "single-handedly reversed the fortunes of the city by bringing a new social and economic vibrancy to what was 42 acres of derelict but historic buildings at its heart. The result is a vibrant and economically successful retail, leisure and mixed-use quarter – an entirely revitalised city centre that now connects properly with the docks."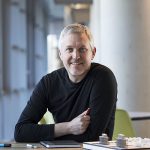 Story by Mark Braund