2003 – Double win for lighting team
Under the leadership of Martin Lupton, President of the Professional Lighting Designers' Association, the team expanded to deliver key projects such as Princesshay Exeter, Cardiff St David's and FirstSite Colchester. The team also won National Lighting Design Awards for Whitehaven Harbour and the parish church of St Peter and St Paul Exton, and Job Centre Plus was also highly commended.
More recently the team has re-imagined lighting for the future workplace for clients such as Google and AstraZeneca, based on projects such as 7 More London and PwC Frontier which consider daylight and circadian need, brand expression and the resilient hackable workspace.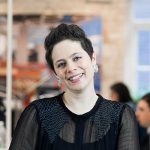 Story by Lora Kaleva