1968 – Preston studio moves to Burolandschaft inspired offices
Our Preston studio in Vernon Street opened in 1968 and was designed around Burolandschaft or 'office landscape' principles of open plan working.
The principles developed by German brothers Eberhard and Wolfgang Schnelle promoted informal, organically planned spaces.  These were revolutionary at the time, but are now becoming relevant again as we consider the next era in workplace design.
This moving away from factory-like rows of desks  created more egalitarian, less siloed patterns of work, reflecting the adjacencies and communication flows of the users.  It also promoted the use of planting to create more humane and natural environments.
We also applied Burolandschaft design very effectively on the design of the Halifax Building Society HQ of 1974.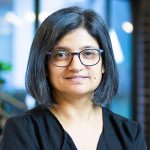 Story by Sheela Shukla