2005 – Perth Concert Hall opens.
I joined BDP in May 1998 and John McManus asked me to work on the Perth 2000 architectural competition for a submission in September/October.
It was an international competition with anonymous entries and a jury led by the famous architect Eva Jiricna – and our entry was picked from a pack that includes some famous names from Europe, Canada and Japan.
After we won the competition, I was the project architect, then associate, to final completion of the building in May 2005 – with an official opening concert taking place in October after public realm works were finished.
It really has been a fantastic success as a concert hall – Perth's not on the beaten track, but the reputation of the venue has put the city on the UK tour map for international orchestras and solo artists who would normally only play Glasgow and Edinburgh when in Scotland.  The same client went on to lead the project for Aberdeen Music Hall that we completed a couple of years ago.
I've seen my musical heroes play there (I'm into classical music).
I took our client for West Lothian Civic Centre there, around 2007 as the space in the civic centre was a similar height and scale to the foyer in Perth.
There was an orchestra rehearsing, but we managed to get into the main hall when they broke for lunch and the hall was empty. 
I played some Rachmaninov on the Steinway that was on stage, so that the client could get an idea of the acoustic, and turned round to see none other than the world-famous concert pianist Vladimir Ashkenazy standing at the back of the hall! 
A bit mortifying, but really surreal for me…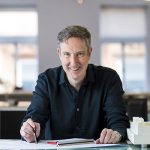 Story by Bruce Kennedy